Brand New LandCruiser 200 series is a world-class SUV considered a luxurious and comfortable SUV. RHD LandCruiser 200 series is available in Petrol 4.6 and Diesel 4.5 V8 Engines. Car junction Japan offers both petrol and diesel LandCruiser new and used to its client worldwide. LandCruiser 200 series petrol is available in different packages which are GX, AX, AX-G, and ZX similarly LandCruiser 200 series diesel is available in GX, GXL, VX, and Sahara.
These New Land Cruiser 200 series are available from basic package 5 Seater GX to up packages like ZX and Sahara which are fully loaded with leather seats, height control, Rear entertainment with two back screen monitors, 4 sided camera system Sunroof, and much more.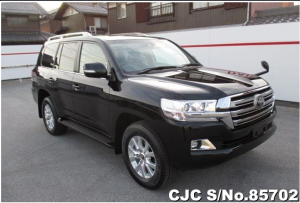 The mid packages like AX,  AX-G, and VX are all 8 Seater with optional features available like a sunroof, leather seats.
Car Junction Japan offers a wide range of readily available new LandCruiser 200 series to its clients worldwide with premium quality customer services and the safest shipment options.